Do you find that years of lawn maintenance have finally stared bringing you down? If you were to add up the number of hours spent out in the hot sun, fighting with branches, shrubbery and grass stains, you would be overwhelmed by the amount of time you have invested into your silly yard. It is certainly understandable that you might be looking to cut back on those hours a bit, and there are ways that you can do this for yourself. Just take a few suggestions into account and decide what options best fit your desires to cut back on lawn care.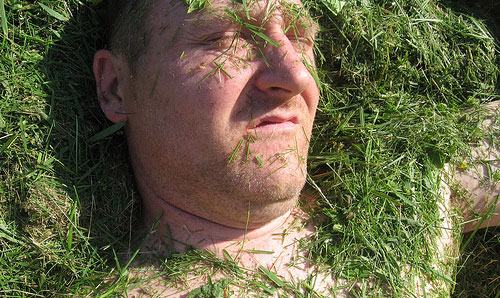 Xeriscaping
This can be one of the best ways to cut back on maintenance because it involves taking the natural approach. This is a method that incorporates the natural environment that you would normally find in your habitat, and is then organized outside of your home in a visually appealing way. By using plants that typically inhabit the area, you should be able to let them grow and flourish without much maintenance on your end. In the best scenarios, the most you will have to do is prune a few branches from time to time. Even watering is nearly a non-issue, because the majority of your yard is rock, wood and plants that only need naturally occurring rainwater to stay alive.
Synthetic Turf
If you have truly had it with any kind of lawn care, you can always hire a professional landscaper to come out and install artificial turf in place of your lawn. There will be virtually no maintenance required on your end. This is also a fairly cost efficient solution, and even though the look of the turf can fade and become damaged over time, replacing it altogether is a seldom task.
More Concrete!
In order to cut down on watering and mowing, simply extend your patio by having a landscaping company add more cement. They will also be able to add features like retaining walls and planters that look nice in your yard, but will ultimately cut back on maintenance on your end. With a larger patio, you will have more space for lounging and less space for working, which is truly what you are looking for.
Rock Gardens
With a large variety of rock types, many landscaping companies are able to provide you with a great selection that can be formed into a rather pleasant looking garden that requires no maintenance whatsoever. Even my taking a bit of lawn space here and there with more rock features, your overall lawn care will still become lesser.
Plant more trees
Trees not only take up more mow-able space in your lawn, but they also provide your grass with a great deal of much needed shade. This way, you will not have to water as frequently or mow as much because the shade will stunt the growth of grass by a tiny amount.
Taylormade Landscaping is a company based out of Las Vegas, Nevada and can provide each and every one of these services to ensure that you will have less lawn care to deal with.